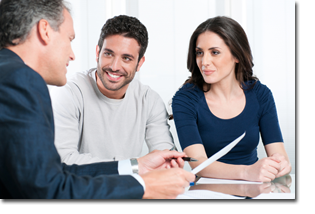 Programs & Options
The American Financial Network team has access to a wide variety of mortgage products. American Financial Network has dedicated many years to maintaining business relationships with a wide variety of banks in order to better be able to offer loans customized to our clients' needs. We have such diversity almost anyone can be offered mortgage options. Please see below for mortgage products we offer..

Mortgage Products
1. FHA
a. 530 min fico score requirement.
b. No fico score or blank credit is ok.
c. No minimum trade lines required.
d. Flip properties OK.
2. Veteran Administration (VA)
a. Loans for military personnel, 0 down, 100% financing
3. Conventional
a. One year out of Bankruptcy, Short Sale, and Foreclosure OK with 20% down min, subject to higher rates typically 2% more than current market rates. Must have a minimum fico score of 640.
b. One-year tax return product. For self employed borrowers that have too many write offs, the lender will take only one year taxes instead of averaging the previous years low income in their calculations. This program is very handy to get otherwise un-qualified self employed borrower qualified during tax time. For example typically if someone has made 0 in year 2010 and has made 50k in 2011 bank average the income giving the client only 25k in annual income. With this program you can be given the 50k in income, and the previous years income WILL NOT drag down your average allowing you to qualify for a loan you otherwise would not be able to.
c. Flip properties OK. This gives you power to purchase properties from flippers or investors that have purchased a property less than 90 days ago and want to sell.
d. Up to 20 financed properties OK. Typically most lender only allow up to 10 financed properties on your credit.
e. No seasoning from date of purchase to cash out required. Clients can buy property cash then cash out the following month…typically most lenders require a client to own the property for at least 6 months before they can pull cash out.
4. Jumbo and Super Jumbo
a. have specialized product up to 20 million in loan amount.
5. Foreign Nationals
a. 35% down payment all around the country.
6. Hard Money
This is equity based financing. The main requirement that must be met is the down payment. If a client has the down payment, and is OK with the higher interest rate, then the loan will be granted. We typically look at all clients financials to see when we would be able to refinance out of this higher interest rate loan. This is ideal for clients that need a loan now, and know they can refinance through credit repair, or by repairing whatever they have to that prompted them to go hard money in the first place. We have partnered with companies that do these loans with no prepayment penalties so that the client has the opportunity to refinance with no additional costs.